Water resistant woods: this is what you should know
When looking for the most befitting stain for your outdoor (or indoor) wood project, several factors need to be considered. There are two main stain types according to their bases- oil-based stain & water-based stain; and in specific conditions, one is practically better than the other. Depending on the type of wood, any previous wood treatment & weather exposure, both these types of stains offer different levels of coverage & protection. Here are some properties of both the the stain types to guide your decision:
- The water-based stain is breathable, does not emit harmful fumes or odors, is not flammable, dries quickly, retains its color for a longer period of time, offers a richer hue of color, is extremely resistant to mildew and mold, and is easier to clean requiring only soap and water; while
- the oil-based stain needs more time to dry that allows for a more even finish, penetrates wood deeper, requires less for long-term maintenance, is extremely durable and offers a thicker seal for wood. 
The type of wood also plays a key role in deciding the right stain. For example, when coating a wood with natural resistance to rotting, it is better to use a water-based stain. Examples of this kind of wood are cypress, cedar & redwood. 
Similarly, previous wood treatment is a crucial factor to arrive upon the correct stain. If the wood to be stained bears a previous coating of stain/ paint, care should be taken to ensure a new, even protective layer. It may be difficult to ascertain the previous layer,  but knowing it will undoubtedly help in choosing the apt stain. If the previous layer is oil-based, opting for a water-based stain now is advisable as the latter will adhere better as compared to an oil-based one.   
The kind of weather the wood will be exposed to is also significant in determining the best stain-base. If the wood element is going to have a direct exposure to rain, wind & sunlight, an oil-based stain is the best option. This is because it is more durable than a water-based stain, and will impart a much better protective cover against these weather conditions.
Interior spaces like bathrooms & kitchens are also in constant contact with varying levels of high moisture, especially bathrooms. And so, staining the floors & other wooden surfaces becomes important in these spaces too. In this image, the stained pine floor looks natural even in the monochrome design.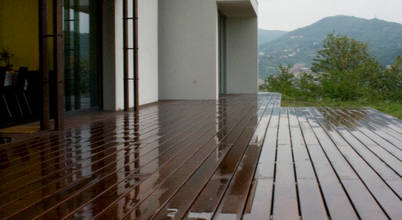 Water resistant woods: this is what you should know. To enhance the water resistant character of wood, it is important to coat them with proper finishes. Finishing products can be categorized, based on typical working qualities & the degree of protection offered. Waxes, varnishes, oils, lacquers, shellacs and water-based finishes are available, these offer different degrees of protection, ease of application, durability, ease of repair and of course, visual appeal.
Water Resistant Woods: This Is What You Should Know. Water resistant woods: this is what you should know. Water resistant woods: this is what you should know Posted by Admin on May 22, 2018 When looking for the most befitting stain for your outdoor (or indoor) wood project, several factors need to be considered.
Video of Water resistant woods: this is what you should know
Water resistant woods: this is what you should know
t Woods. Hardwoods in general have better water resiliency than softer woods like pine because the fibers are tightly packed together, resulting in less absorption, which does not mean all hardwoods are waterproof. Maple, oak and birch flooring expands and contracts due to moisture in the air. Water Resistant Woods. Moisture related peace of mind china 75 x 50mm square wood water resistant easy to install and clean the first of these woods is alder tree a well known d3 water resistant wood glue how to waterproof wood. How Water Resistant Is Poplar Wood?. Young, fast-growth poplar trees contain a greater concentration of sapwood than do the older, slow-growth trees. Sapwood is much less resistant to water and decay than is heartwood. This older wood tends to be darker in color than the newer wood, so keep that in mind when shopping for water-resistant poplar. Pressure Treated Lumber. Shop our selection of Water Resistant, Pressure Treated Lumber in the Lumber & Composites Department at The Home Depot. PRESSURE TREATED LUMBER Protects wood from rot, decay and insect infestation Learn More. 2x Ground Contact . Treated Lumber • Protects against termites, rot and fungal decay • 2x the chemical retention levels and protection compared to above ground treated wood Naturally Rot-Resistant Woods. The following two sections list domestic and tropical tree species whose wood is exceptionally resistant, resistant or very resistant, and moderately resistant. Domestic Species Exceptionally resistant: black locust, red mulberry, osage orange, and Pacific yew.
Tags: Water Resistant Woods: This Is What You Should Know
Water Resistant Woods: This Is What You Should Know
Recommended Use: Understanding The Durability Of Your
LifeProof Terrado Oak Water Resistant 12 Mm Laminate
Waterproof Laminate Wood Flooring Water Resistant Hardwood
Food Hygiene What You Should Know Poster
Smart Plywood Brown Wooden Boiling Water Resistant Plywood
Best Flooring Best Wood Flooring Best Scratch Resistant
11 Best Images About Water Resistant Flooring On Pinterest
Waterproof Laminate Wood Flooring: 4 Advantages You Should
What You Need To Know About Plywood
The Prevision And Use Of Work Equipment Regulations 1998
One Thing You Should Never Use On Hardwood Floors (& How
Laminate Plank Flooring Luxury Vinyl Plank Reviews Water
Aqua-Step Laminate
Caulking Tips
Ecoste
Can You Really Be Successful Without Being Coachable
Termites Attack Treated Pine Fencing
WO9 Shabby Chic Wood By Photography Backdrops UK
What Is The Most Water Resistant Laminate Flooring
FAQs -- After Gutting A Flooded Home
How To Make Wooden Baseboard Heater Covers
What Is Water Resistant Clothing? (with Pictures
The Best Waterproof Flooring Options
Roof Replacement
Designer Wood Watch By JORD
Choosing The Right Laminate Flooring
10 Tricks In Wood Staining
Conway Kosso & Midnight Blue
Create Shade And Privacy Outdoors With These Water
Ladies Wood Watch By JORD
Invicta Pro Diver Wood Watch
25 Best Childproof Your Home Images On Pinterest
Ronseal Ultimate Decking Stain 2.5L
10 Interesting Facts About Glue
Condensation In A Residential Cabin: Things You Need To
The Tile Home Guide
How To Build A Solid, Frost-Proof Deck Footing
Best Varnish For Polymer Clay
DECK STAIN: Why Most People Mess Up Their Deck Big-Time
Elegant Wood Watch By JORD
Fieldcrest Zebrawood & Maple
Everything You Need To Know About Hydration
7 Tips To Make Sure Your Wedding Day Makeup Stays Put
Seal-Once™ Nano Guard Plus Poly Waterproofing Wood Sealer
Trending In The Aisles: LifeProof Slip Resistant Tile
KAWS @Yorkshire Sculpture Park *SOLD*
Kitchen Worktops – Everything You Need To Know
Refinishing Hardwood Floors
Roof Asbestos Insulation
Thin White Wood Planks By Photography Backdrops
Learn Everything About Plywood
Concrete Slab On Grade Design Spreadsheet Google
Brown Geometric Vinyl Bathroom Wallpaper R2243
How To Build A Cornhole Board
Delhi Plywood Wooden Flooring: Buy Delhi Plywood Wooden
Off The Shoulder Charming Half Sleeves Long Evening Prom
Conway Walnut & Jet Black
Tamlee Bamboo Wood Watch
Dark Sandalwood & Smoke
12 Things To Do Before Leaving Your Home On Vacation
Flashing A Deck Ledger Board On Vinyl Siding
Best Laminate & Flooring Ideas
Skeleton Face Wood Watch By JORD
Skills: A Gear Weight-Loss Program
Heat Resistant Wood Glue
22 White Wood Floor Ideas And How You Should Combine It
Buy Dr Fixit New Coat Water Proof Coating Emulsions Online
Automatic Wood Watch By JORD
Wood Watch For Women By JORD
Frankie Zebrawood & Champagne
Galaxy S5: What Does IP67 Mean?
How To Lay Tile: Install A Ceramic Tile Floor In The
Mobi Synthetic Clear Varnish
Why Sealing Your Basement In Winter Is Smart
1000+ Ideas About Wood Glue On Pinterest
12 Outdoor Survival Skills Every Guy Should Master
Artfully Aged Wood Finishes
Venice Outdoor Dark Brown Wicker Swivel Club Chair With
107+ Photos & Videos
Outdoor Technology Turtle Shell 2.0 Rugged Water-Resistant
Should I Wax Or Poly?
Walker Wagon Wheel Bench
Vestido Azul Beautiful Lindo Imágenes
Inspecting Underlayment On Roofs
3 Things You Should Know About Social Proof According To
Schantz Home Improvement Co. Blog & News
34 Best Images About What's New On Pinterest
Quick-Step Impressive White Oak Planks IM1859 Waterproof
Timeless Dexter Outdoor Coffee Table
Have To Have It. Smart Carts 5 Level Plant Pyramid
Can I Remove This Wall? Removing A Load-Bearing Beam
Central Boiler
Ten Things You Should Know About Spray Paint
Bewell Luxury Brand Waterproof Wood Watch Men Quartz
Minimalist Wood Watch By JORD
Causes & Effects Of Dampness In Buildings
[2-Pack] Hiccapop Foam Bed Bumpers Toddler Bed Rails With
180x180cm Waterproof Shower Curtain Mold Resistant Plain
How To Get Water Stains Out Of Wood
Structural Design Of Wood Framing For The Home Inspector
House And Garden Decorating
Ruffwear Dog Sleeping Bag
Our Essential Outdoor Furniture Care Guide
17 Best Images About Pet Infographics On Pinterest
Popular A-line Round Neck Sequin Long Pink Prom Dress
25 Best Illuminati Symbols In Cartoons Images On Pinterest
Original Grain Watches